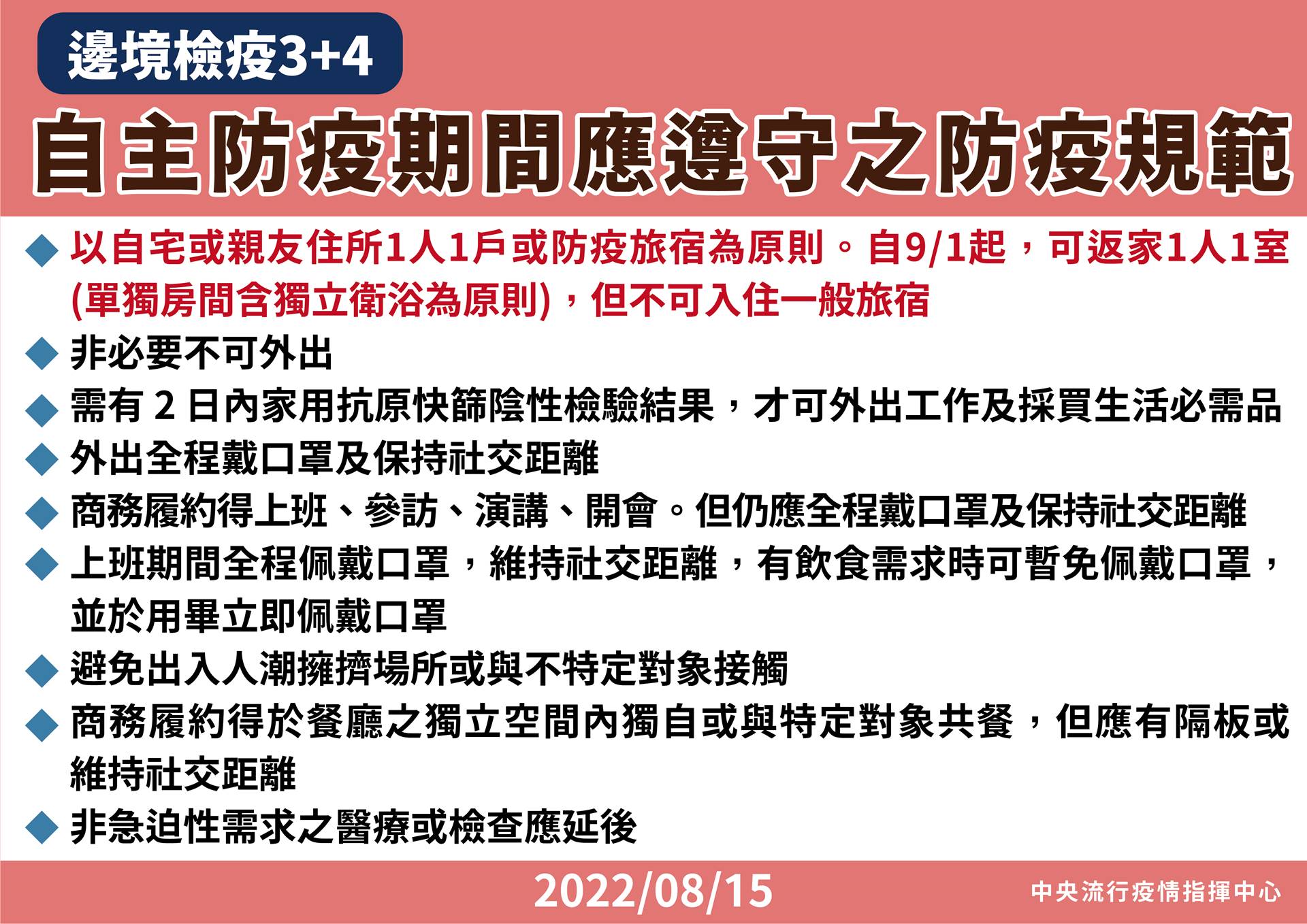 From September 1st (the scheduled flight arrival time), the entry quarantine measures will be maintained at 3+4, and the quarantine facility for self-prevention for the next 4 days will be adjusted to "1 person, 1 room"
The Central Epidemic Command Center stated today (15) that in order to continue to promote social and economic development and take into account the needs of people's living, after a comprehensive assessment of the implementation of entry quarantine measures, domestic epidemic situation, epidemic prevention and medical capacity, since September 2022 Starting from the 1st (the scheduled flight arrival time in Taiwan), the entry quarantine measures will be maintained for 3 days of home quarantine and 4 days of self-epidemic prevention, and the next 4 days of self-epidemic prevention and quarantine will be adjusted to "1 person, 1 room". The relevant regulations are as follows:
1. Quarantine days and premises
(1) 3-day home quarantine: maintain "one-person-one-household-qualified self-occupied residence or the residence of relatives and friends" or "epidemic prevention accommodation".
(2) 4-day self-epidemic prevention:
1. Self-epidemic prevention can be carried out in one's own house or the residence of relatives and friends that meets the requirements of one person, one room. One person, one room is based on the principle of a separate room with independent bathroom facilities, but cannot be accommodated in general hotels.
2. Returning from the 3-day home quarantine place to the place where 1 person 1 room is suitable for self-epidemic prevention, there is no need to apply to the local government for the change of location during the self-epidemic prevention period.
2. The inspection measures, home quarantine and self-imposed epidemic prevention regulations for inbound passengers remain unchanged. Those who violate the relevant regulations will be fined NT$10,000 or more in accordance with Articles 58 and 69 of the Infectious Disease Prevention and Control Act A fine of less than 150,000 yuan:
(1) Detection measures:
1. Viral nucleic acid (PCR) test: upon entry (day 0), collect deep throat saliva samples at the airport/port for PCR test.
2. Household rapid screening reagent test: upon entry, international port personnel will provide passengers over 2 years old with 2 doses of household rapid antigen screening reagents, which can be used when symptoms occur during quarantine and when they go out for the first time during self-epidemic prevention.
(2) Anti-epidemic regulations to be followed during the period of self-prevention:
1. Do not go out unless necessary.
2. Negative home antigen quick screening test results are required within 2 days before going out to work and shopping for daily necessities.
3. Wear a mask and maintain social distance when going out.
4. Business performance includes going to work, visiting, giving speeches, and holding meetings. However, masks should still be worn and social distancing should be maintained throughout.
5. Wear a mask throughout the work period, maintain social distance, and temporarily exempt from wearing a mask when you have dietary needs, and wear a mask immediately after use.
6. Avoid entering and leaving crowded places or contact with unspecified objects.
7. Business performance can be performed in a separate space of the restaurant alone or with a specific person, but there should be a partition or social distance should be maintained.
8. Non-urgent medical care or examinations should be postponed.
The command center re-emphasized that entry quarantine measures are an important key to preventing the COVID-19 epidemic, and the public must abide by the above-mentioned norms to jointly maintain the safety of the domestic community.