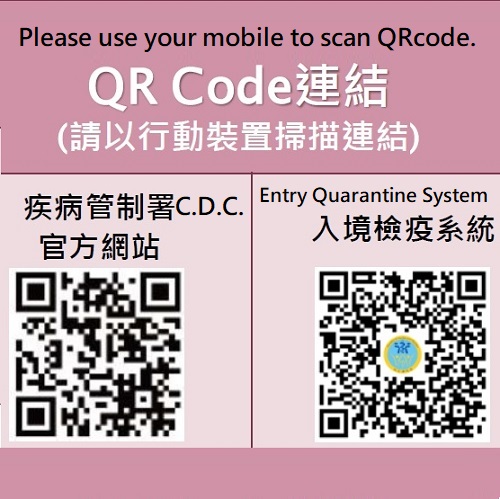 List of restrictions on various types of people coming to Taiwan (applicable from 2021-09-13)
A. The COVID-19 nucleic acid test report within 3 days should be attached before boarding.
Remark:
1. All inbound personnel should undergo 14-day quarantine, and arrange a quarantine residence before boarding the flight, and follow the relevant regulations of the Centers for Disease Control and Prevention.
2. From 0:00 on July 18, 2021, travelers who have travel history (including transit) in Brazil, India, the United Kingdom, Peru, Israel, Indonesia, Bangladesh or Myanmar 14 days before arrival in Taiwan should stay in a centralized quarantine center for 14 days and cooperate with inspection. (Remind you to prepare NT$500 in cash to pay for PCR testing)
3. From 0:00 on May 19, 2021, passengers will be completely prohibited from transiting in Taiwan.
4. For diplomatic affairs, migrant workers, and overseas students, please cooperate with the special management measures of the Ministry of Foreign Affairs, the Ministry of Labor, and the Ministry of Education.
***Please use your mobile device to complete the online declaration of the "Entry Quarantine System" before entering Taiwan, and you should take the initiative to show the SMS certificate to the quarantine personnel when you arrive in Taiwan.